SEVEN.ONE ENTERTAINMENT GROUP
The best entertainment under one roof
As of October 1, 2020, all of ProSiebenSat.1 Group's entertainment activities have been bundled under the roof of the Seven.One Entertainment Group. The close linking of the areas of content, sales and distribution stands for concentrated entertainment power and at the same time releases new potential. Because: here we create strong content, powerfully presented brands and innovative products in ways that inspire consumers and advertising partners alike - all from one source. And united in one strategy: Thanks to growing levels of in-house content that is served to relevant target groups on various platforms, the Seven.One Entertainment Group boasts extensive, marketable reach, underpinning the innovative advertising products and technologies it offers. The new management team has been set up accordingly: With Wolfgang Link as ProSiebenSat.1 Executive Board member responsible for the Entertainment segment and CEO of the Seven.One Entertainment Group at the helm, Henrik Pabst (Chief Content Officer), Nicole Agudo Berbel (Chief Distribution Officer), Thomas Wagner (Chief Sales Officer) and Andreas Kösling (Chief Commercial Officer) are responsible for the division as accomplished managing directors. In this interview, they explain how they aim to work together to achieve the best results, how far the company has progressed along the path to becoming a platform-independent entertainment player and what new synergies they intend to leverage by merging content, reach and marketing.
Entertainment-
Strategy
Interactive graphic
Optimization of content and playout
More focus on expanding digital reach
Addressing new budgets & new business
Digitization of TV
Content:

Henrik Pabst

Appointed as Chief Content Officer and Managing Director of the Seven.One Entertainment Group in March 2020, Henrik Pabst is responsible for refining and restructuring the station group's entire content offering for viewers and consumers across all platforms. In his ten-year tenure at ProSiebenSat.1, Pabst has held various positions, including heading up the program sales arm Red Arrow Studios International.

The Seven.One Entertainment Group is increasingly focusing on local, in-house productions, live programming and expanding relevant content. What changes has programming undergone since then?

Considering the countless content providers in the linear and digital worlds, the only way we can best the competition in winning over viewers and users in the long term is with our own content, which is available exclusively on our channels and digital platforms. For this, we need the right program and genre mix. In fall 2020, the third season of "The Masked Singer" once again delivered proof positive of our live and local content strategy's effectiveness, with the season finale earning a 28.8-percent market share among 14- to 49-year-old viewers. The final unmasking was even watched by 51.3 percent. Over recent months, we have proven time and again that such entertainment highlights, along with many other successful formats, are our core competency. We also go above and beyond in fulfilling our responsibilities as a media company even in times of crisis. To that end, we not only integrate programming about the coronavirus into the lineup at short notice but also feature shows, such as Joko and Klaas' high-impact "15 minutes" of air time, devoted among other things to the refugee crisis or violence against women and Thilo Mischke's documentary "Rechts. Deutsch. Radikal." (Right-Wing. German. Radical.). In this way, we show that by taking a clear stance, we can address many important and socially relevant issues. Looking ahead, we will continue on our path toward more live, local and relevant content. Another area we will expand and focus on is sports. I'm particularly excited about having secured the only free-TV package covering the German Bundesliga soccer matches, which will be broadcast on SAT.1 from summer 2021.

What role does "windowing" play in this content strategy?

Windowing refers to planning the distribution of our programs across platforms. We take into account both linear channels, such as our free TV stations as well as non-linear channels, such as our station websites, Joyn or external platforms including YouTube and Facebook. Here again, "The Masked Singer" is a prime example because, in addition to the show's wide reach on ProSieben, we have built an extensive digital fan world around the format, offering users exclusive content and opportunities for interaction across all platforms. And it's nothing short of a success. In 2020, more than 9 million votes were cast around the show via these fan worlds alone. This testifies to the fact that we have hit on the perfect mix that lets our viewers access our content with utmost ease and customization. Our aim is clear: We will always provide the perfect platforms for all our content. To maximize marketing and monetization potential, we frequently make use of all available platforms. In such instances, linear broadcasting and on-demand offerings go hand in hand. Going forward, we will further strengthen our stations' websites, the associated fan worlds, Joyn and third-party platforms to expand our digital reach. Smart windowing is key to achieving this.

As of January 2021, the ProSiebenSat.1 production and distribution subsidiary Red Arrow Studios comes under the Entertainment segment. How does the Group benefit from this closer connection?

As a successful international content production and distribution company, Red Arrow Studios plays a very important role for us, as it gives us access to international programming content, which we can then adapt for the local German-speaking TV market. With in-house productions, we create custom-fit content for our target groups and develop the unique selling points that set us apart in the market. In 2020, we invested around one billion euros in programming, more than half of it in local content. That's why, in many respects, it's strategically advantageous for us to have this programming expertise within the Group. We intend to work even more closely together going forward. Our German Red Arrow subsidiary Redseven Entertainment has for many years successfully adapted shows from the Red Arrow network for us, including "Hochzeit auf den ersten Blick" (Married at First Sight) and "The Taste."

Reach:

Nicole Agudo Berbel

As Chief Distribution Officer and Managing Director of the Seven.One Entertainment Group, Nicole Agudo Berbel is responsible for the distribution and pay TV divisions. In this role, she is instrumental in ensuring that our content reaches viewers across the numerous distribution platforms. Over the past few years, her achievements at ProSiebenSat.1 include successfully establishing and evolving new digital products and business models for the entire free and pay TV portfolio across all distribution channels at ProSiebenSat.1, thereby generating a significant share of the Group's revenue and earnings.

Viewers are increasingly using a variety of media in parallel. How do we continue to reach our target groups effectively?

We provide content wherever our viewers are active. To that end, we keep investing in our own platforms and ensuring they offer precision-tailored content that appeals to our target groups. Along with TV, this includes our channel websites, the channel apps, our fan worlds and, of course, our streaming platform Joyn. In addition to these own platforms, we rely on long-standing partnerships built on trust with third-party platforms (e.g. Telekom, Vodafone, HD+) and digital players such as Waipu.tv and Zattoo as well as YouTube and Facebook for short-form content. Moreover, we are entering into new partnerships – as we have done in our recent agreement with the Amazon Prime channels, which allows us to tap into new target groups for our pay TV channels.

So how exactly do we respond to changing media usage habits?

The media landscape has changed significantly in recent years. Our target groups consume content every day via different platforms and devices on a daily basis, whether in their living rooms at home or on their way to work. Sometimes in passive viewer mode , sometimes actively switching between different videos or online articles. We respond to these habits by ensuring that our viewers and users of all ages enjoy the greatest possible flexibility in accessing our content. Consuming both linear TV and our on-demand offerings or highlight clips should only ever be a click away. Thanks to digital technologies and our agreements with distribution platforms, we are able to efficiently combine and serve linear and non-linear content. That means our viewers and users can consume our TV station programming and digital products on virtually all applicable platforms. Plus, the instant restart function and our media libraries open the door to a wide range of content from our program, whenever and wherever.

How does distribution benefit marketing now that both areas operate under one roof?

Our digital and linear distribution channels are the cornerstone of our marketing because our proprietary and partnership secure us high reach and open up potential for digital forms of marketing such as addressable TV. Ultimately, this is one of the most compelling arguments in marketing. In addition, our apps or media library content on smart TVs, for example, offer further digital monetization potential. Integrating the content distribution and windowing strategies and combining them with marketing initiatives has ensured that the business areas now dovetail perfectly. After all, there is growing demand among our advertising customers for comprehensive, 360-degree TV and digital concepts. In this way, we can fully respond to their needs.

Monetization:

Thomas Wagner

Together with Andreas Kösling, Chief Sales Officer Thomas Wagner oversees the sales business at the Seven.One Entertainment Group. In this role, he is principally responsible for the agency business. With more than 20 years as part of the Group coupled with a long tenure as Chairman of Seven.One Media, which is the leading advertising slot marketer for audiovisual and digital media in the German-speaking countries, Wagner is one of the most experienced experts in the sales business.

Restrictions to control the spread of COVID-19 presented advertisers with significant challenges in 2020. How has the Seven.One Entertainment Group supported its customers during this time?

Of course, the pandemic impacted our advertising bookings: Our customers frequently had to revisit their plans. We offered advice on rethinking campaigns whose original form or tone of voice were no longer appropriate due to lockdown – for instance by reproducing or adaption of spots. Thanks to the synergies within the Group, we were able to deliver suitable, high-reach solutions very quickly. Additionally, we ensured that customers now have even greater flexibility when booking advertising space. Of course, these measures are based on our research into increased media usage during the COVID-19 pandemic. All in all, this got us through the crisis on a strong footing – and we could proof that TV is still the most effective advertising medium. To stay in contact with our advertising partners over a distance, we launch new digital dialog formats for our partners both on agency and client side. One thing became clear quickly: the even closer dialogue with our customers was and still remains vitally important.

Direct comparisons between TV and digital advertising remain a bugbear in sales. How do you succeed not only in creating integrated offerings – but also in measuring their effects?

Wide reach in high-value environments is becoming increasingly valuable to marketers – and TV remains the best way of addressing end customers quickly and effectively. At the end of the day, it is all about impact. With the additional touchpoints provided by our digital offerings, we connect with viewers where they are most comfortable. By that, they come into contact with our clients' products in more ways. Of course, it is then up to us to ensure that the reach of these measures can be compared on a one-to-one basis. This is why establishing a video currency that is not only applicable across all platforms but also based on established measuring models, such as those employed by the Arbeitsgemeinschaft Videoforschung (Germany's television research working group – AGF), is a top priority for us and the market. We must harness comprehensive reach across all channels and precision-targeted sales to persuade our clients that viewers are fully seeing their advertising in all media – not just on linear TV. With the launch of CFlight, we are partnering with Sky to establish transparent criteria for cross-media campaigns. Advertising exposures that meet the CFlight criteria are the gold standard. This makes it possible to compare cross-media reach for the first time. Even without all that, we are already able to execute end-to-end campaigns that combine TV with digital. A good example is the campaigns we served as part of our successful "The Masked Singer" show. Together with our partners, such as Opel, we created a fantastic advertising environment across various channels – from TV through digital fan worlds to social media.

Monetization:

Andreas Kösling

In January 2021, the Seven.One Entertainment Group welcomed a new member to its management team: Andreas Kösling is leading the Seven.One Entertainment Group's sales business together with Thomas Wagner. In his new position as Chief Commercial Officer, he is responsible for expanding growth and innovation aspects in sales. In addition to his profound insights into advertising clients' needs, Kösling has a broad industry network that will serve him well in his new role.

Mr. Kösling, you came aboard in January. From your perspective on sales, how is the Seven.One Entertainment Group positioned and what is your roadmap for the future?

As a team, we ensure that the Seven.One Entertainment Group's sales business is fit for the future and systematically align it with our customers' needs. In my view, Seven.One Media has long been synonymous with innovation, close customer relationships and full entertainment power like no other marketing agency. Our aim is to expand this position in order to tap into further growth. Thomas Wagner and I also intend to place special emphasis on new clients – Thomas will do so on the agency side, while I focus on areas for growth and innovation. In this way, we will secure new budgets, for instance, from industries that have not yet advertised on TV. We also want to further expand the Seven.One Entertainment Group's market leadership and take the spotlight with innovative, relevant advertising formats, such as addressable TV and cross-device offerings. In 2021, we have set our sights on further leveraging the synergies in our Group so we focus even more strongly on customers and continue to advance the organization's consistent positioning.

There's nothing more powerful than digitalization in shaping our use of media. What does this mean for sales?

TV is becoming increasingly digital. We combine our stations' extensive reach with targeting as we see it in the digital world. This approach not only allows us to outgrow the boundaries between linear and digital products but also to harness the reach generated by all aspects of our TV shows in advancing our customers' cross-platform campaigns. Therefore, we are developing innovative advertising solutions. We continue to invest intensively in our range of targeting options and are increasingly facilitating programmatic bookings – even on TV. Our CrossDevice Bridge , which we launched in 2020, makes this possible. For the first time, we can serve TV and digital advertising campaigns across all devices. Most importantly of all: by adding advantages such as reach and addressability, we are taking TV as an advertising medium to a completely new level.
The Masked Singer, Advertising as creative as the show's costumes: The ProSieben hit show "The Masked Singer," which achieved a market share of up to 28.8% (among 14–49 year-olds) during its third season in fall 2020, offers the perfect setting for 360-degree storytelling and made-to-measure advertising on all platforms. In addition to the huge success story in terms of TV reach, the digital fan world associated with "The Masked Singer" offers viewers exclusive content such as voting opportunities via the app. This means users can continue guessing at the disguised celebrity singer's identity well beyond the live TV show's time slot. McDonald's and Opel are just two of the companies to benefit from product placements, sponsorships and innovative branded entertainment campaigns in 2020. Thanks to its product placements, Opel, for one, played an active role in ensuring the show's best kept secret – the celebrities' identities – stayed under wraps by transporting them in blacked-out Opel vehicles.

The Voice of Germany (TVOG) is already an established brand with a scope that extends well beyond TV. Cheering on their favorite candidates – in 2020, up to 7.22 million viewers gathered live around their TVs. On the-voice-of-germany.de, the fan worlds associated with the show also proved very popular. For years, the show has also been setting the pace on the digital front by offering more special extra content than almost any other program – spanning exclusive previews through additional candidate performances to exciting glimpses behind the scenes. For the first time in 2020, for example, viewers had access to a virtual "buzzer" and were able to vote for the finalists online. You could not have created a more perfect basis for advertisers to get involved on all platforms across the TVOG world. The recent series was the seventh time SEAT served as a cooperation partner and, on top of its traditional TV sponsorship, relied on placements and integrations such as the online spin-off "The Voice: Comeback Stage by SEAT." In this show, selected candidates who did not get the buzzer or were eliminated during the battles and sing-offs were given a second chance.

Galileo digital, From pilot project to popular knowledge portal: With Galileo.tv and the Galileo app, we have created a digital experience anchored by a strong brand. For over a year now, users and fans of the tradition-steeped TV show have been getting their daily dose of "facts and figures with a wow factor" on both platforms. And there is more every day: Ever since it launched in November 2019, the digital "Galileo" experience world has featured over 1,100 web-exclusive videos and more than 1,700 articles. The digital platform caters to the most diverse users' needs by way of a wide variety of topics, edited materials and interactive features – through clips, images, stories, quizzes and polls. On "Interactive Monday," viewers can contribute to the evening program via an app.

"Das ist ja Claße(n)" podcast, 13 million subscribers on Instagram and over ten million on YouTube: Since October, social media superstars Bianca "Bibi" and Julian "Julienco" Claßen have also taken the audio scene by storm. In their first podcast "Das ist ja Claße(n)", the couple offers weekly insights into their lives as influencers and young parents. The series is available on the ProSiebenSat.1 audio platform FYEO as well as all other notable podcast players and ranked among the top 10 of the German Spotify charts in no time. As part of the Seven.One audio portfolio, the podcast is marketed exclusively by our Podcast Factory. The Claßens' podcast proves that combining well-known artists, entertaining content and strong marketing creates enormous reach for advertisers. "Das ist ja Claße(n)" reaches up to 700,000 listeners weekly and relies on native advertising spots that the two hosts voice themselves in their authentic style.
WindStar Medical
The key is to leverage synergies to the greatest possible extent
Sharpening our focus: This also means for ProSiebenSat.1 that we will concentrate solely on investments having strong synergies with our entertainment business. This way, we hone our portfolio while simultaneously paving the way for sustainable growth.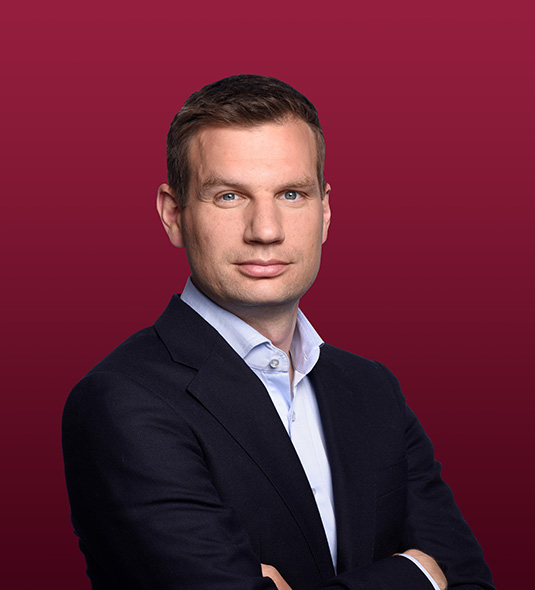 A good example of making a move toward a more focused, synergistic portfolio was the sale of WindStar Medical in December 2020. Since 2016, the OTC provider belonged to ProSiebenSat.1 and was re-grouped under the umbrella of NuCom Group in 2018. In these four years, we have significantly expanded WindStar Medical's brand position through continuous, targeted advertising campaigns running on our channels and platforms. The result has been a significant uptick in brand awareness as well as revenue and enterprise value. For WindStar Medical to take the next step on its journey, a globally positioned investor was needed. Selling the company was the next logical move. After all, it is part of ProSiebenSat.1's active portfolio management strategy to leverage synergies within the Group as much as possible.
Our TV reach and advertising possibilities make us uniquely able to build TV-related consumer brands and turn them into industry leaders. To achieve this, we follow a clear-cut strategy: As soon as a company emerges from the initial growth phases and is ready for the next steps, we review whether we are still the best owner. Or whether we can demonstrate the increase in enterprise value we have achieved by selling the company. At the same time, we keep an eye out for new investments and business lines that are both television-related and profitable. The key is for us to leverage synergies within the Group at all times to the greatest possible extent.

Executive Vice President Group Strategy & Corporate Development, ProSiebenSat.1 Media SE
During its four years as part of the ProSiebenSat.1 Group, WindStar Medical succeeded in…
boosting brand awareness for its core SOS brand from 30 to

75%.

increasing revenue by

80%.

growing enterprise value 2.4 times – to

EUR

280

million.
ProSiebenSat.1 PULS 4
All the facts, whenever and wherever – PULS 24 is a high-reach news brand
On September 1, 2019, the fourth Austria-only TV station in the ProSiebenSat.1 PULS 4 Group, PULS 24, started broadcasting live, local news on all channels and via an independent app. Since then, PULS 24 has successfully established itself as both a news channel and an online platform. PULS 24 ensures that Austrian viewers always receive live updates from the scene of whatever is of concern to the country – 24 hours a day, seven days a week. In addition to the app and the TV station, PULS 24 is also available via the Puls24.at website and the ProSiebenSat.1 PULS 4 Group's free TV streaming platform ZAPPN. Thanks to continued growth in viewer and user figures across all channels, PULS 24 further expanded its position as an independent news brand in 2020.
With an average dwell time of six and a half minutes and more than 20 minutes on Sundays, the PULS 24 website is the fastest growing digital news platform in Austria. In the fourth quarter of 2020 alone, unique users on the PULS 24 app increased by almost 10 percent compared to the previous year and the number of videos viewed on the app rose by 45 percent. At the same time, PULS 24 market share in traditional TV, grew to 0.8 percent in the 12-to-49-year-old demographic in 2020.
The Viennese ballot – the most important Austrian state election in 2020 – underscored the success of this 360-degree news strategy: On polling Sunday in October 2020 alone, more than 7 hours of live PULS 24 news ran on the ZAPPN app, regularly updating users with up-to-the-minute push news. On four evenings as well as on voting day itself, in all 1.9 million viewers tuned in to follow coverage of the state election live on PULS 4, PULS 24 and ATV. In the run-up to the poll and on election day, the stations devoted almost 50 hours of broadcasting time to the topic – through interviews with all six leading candidates, informative expert commentaries and a total of four evenings of TV duels and elephant rounds, voters were comprehensively prepared for their decision.