Annual Report 2020
Speeding
Up
Sharpening Focus
Creating Value
Taking Responsibility
Jump to content
Magazine
Sharpening focus

We focus on local, relevant, live entertainment and infotainment while expanding our digital reach and improving monetization through smart advertising products. Additionally, synergies with the entertainment business are translating into greater than ever benefits for the commerce segment.

Discover

Creating value

We are positioning ourselves as a diversified and profitable Group that creates value. Our newly established dating unit is delivering on this goal, as is our SevenVentures investment arm and our sales innovations.

Discover

Taking responsibility

We take our responsibility as a media company seriously at all times – not just during the COVID-19 pandemic. That means educating, spotlighting relevant topics through striking formats and creating a safe working environment for our employees.

Discover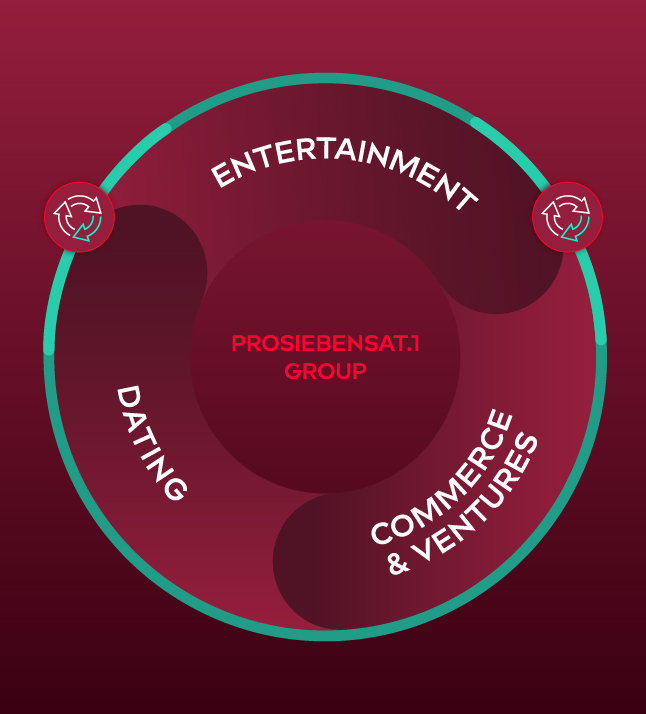 Our strategy
Diversified. Synergistic. Profitable.
By launching the Seven.One Entertainment Group umbrella brand and establishing ParshipMeet Group, we are pushing the new set up of the Group. While the dating business is clearly a move toward diversification, we are focusing on our core competencies in the entertainment segment. Our investment activities are bundled in the commerce & ventures segment where we harness our media reach to build digital companies into leading consumer brands. This also includes implementing active portfolio management throughout the Company and a strong focus on leveraging even more synergies within the Group.
Discover
ProSiebenSat.1 Media SE
Our Executive Board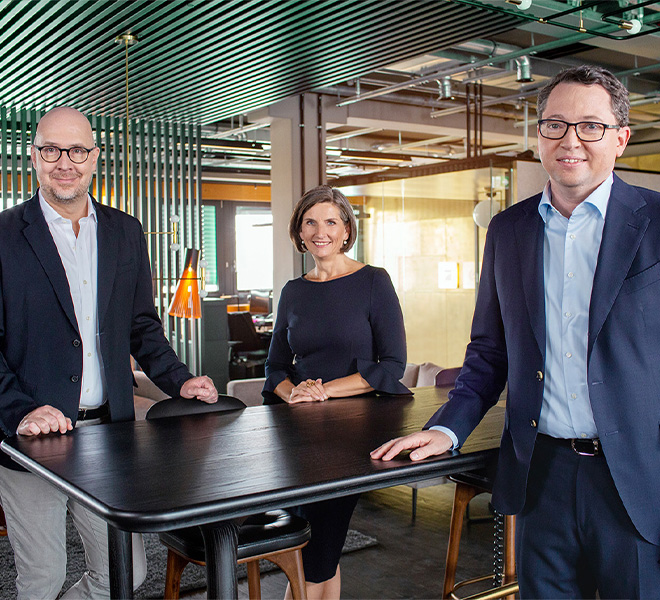 Our goals are clear: We need to leverage the synergies between entertainment, dating and commerce & ventures even better. We need to diversify even more and use our entertainment business as a springboard for this.

Chairman of the Executive Board & Chief Financial Officer

Discover
At a glance
Our Results & Ambitions
Our results
ProSiebenSat.1 Group has long ceased to be a pure-play media company. Instead, it is systematically digitalizing and diversifying its business. Today, our business is based on three strong pillars: Entertainment, Dating and Commerce & Ventures. We focus on producing our own live, local content that not only sets us apart from the competition but also allows us to leverage our TV stations' millions-strong reach for our digital businesses. By harnessing the strength of our entertainment business and wide advertising reach, we are building leading consumer brands and driving diversification by our own power. Part of that process includes a group wide active portfolio management. Overall, we are concentrating on further intensifying synergies within ProSiebenSat.1. Despite the challenges of the COVID-19 pandemic, we have made good progress in this regard in 2020.
Our ambitions
We aim to make ProSiebenSat.1 more synergistic, diversified and profitable. By focusing strongly on generating profits, we intend to achieve sustainable growth in all segments as well as our mid-term return on capital employed target. All parts of our Group should contribute to one another so that we create lasting value for all stakeholders. At the same time, we do not lose sight of our social responsibilities, which is why we are systematically advancing our Group's sustainability performance.
PROSIEBENSAT.1 GROUP
COMPANY PROFILE
ProSiebenSat.1 combines leading entertainment brands with a with a strong dating and commerce & ventures portfolio under one roof and is thus one of the most diversified media companies in Europe. We offer the best entertainment – whenever, wherever and on any device. We can address over 45 million TV households in Germany, Austria and Switzerland with our 15 free and pay TV channels. At the same time, we reach around 33 million unique users every month with online offerings marketed by ProSiebenSat.1.
Successful formats like "The Masked Singer" and "Joko & Klaas vs. ProSieben", in-house productions like "Germany's Next Topmodel" and "Married at First Sight" as well as superstars like Heidi Klum and Dwayne Johnson are part of our family. At the same time, we use our expertise in brand building: With ParshipMeet Group, we have created a leading global platform in the dating segment, that will significantly support our future growth. In this way, we are driving our diversification under our own steam. As part of our investment and commerce activities, we build digital consumer brands with our TV reach and advertising power and make them market leaders in their respective industries. Because we are a strong growth partner for digital companies.
Behind ProSiebenSat.1 are around 7,100 employees, who entertain and delight our audience and customers with great passion every day.